Our History
SupplyBank.Org was founded to apply the successful food bank model to the issue of unmet material needs. Beginning as a local school supplies distribution effort, we have since grown to become the largest charitable program of our kind in California.
2009: UC Berkeley Roots & Pilot at the South Berkeley YMCA
SupplyBank.Org (then called "K to College") started when a group of UC Berkeley students realized that the basic principle of market power could be applied to support students from low-income families who were struggling to afford school supplies necessary to complete classwork and homework. By pooling resources and purchasing in bulk directly from manufacturers, in the same way that food banks work with farmers and food producers, many more students could be served for the same cost.
Equipped with a nonprofit business plan and a borrowed pickup truck, we fundraised from local businesses and in 2009 gathered volunteers to distribute our first 300 school supply kits to Berkeley Unified students in need.
2010: San Francisco Bay Area Expansion
To showcase our innovative approach, in January 2010 we gathered more than 500 volunteers in UC Berkeley's Pauley Ballroom to assemble school supply kits for 10,000 low-income kids. The passion and energy of that event's volunteers symbolized an inflection point for our organization, publicly demonstrating the ability to provide these resources to children across multiple communities.
K to College expanded to provide school supply kits to tens of thousands of children throughout the San Francisco Bay Area. This unprecedented regional effort drew national attention, including news coverage from CNN, the San Francisco Chronicle, the Sacramento Bee, and many other news sources.
2010-2011: Refining our Nonprofit Business Model
Since 2010, we have continued to improve upon our original business model. Our sponsored legislation, Senate Bill 608, established an innovative partnership with the California Prison Industry Authority (CALPIA), allowing inmates to engage in community service by assembling school supply kits as part of a rehabilitation program. This partnership ensured that we could scale to produce hundreds of thousands of school supply kits and incorporated another worthy community service into our process.
We also found other ways to improve our approach, including securing a sales tax exemption and welfare waiver from the California Board of Equalization for programmatic costs, and establishing formal partnerships with numerous relevant organizations, including the California Teachers Association, the California State PTA, and more than 200 school districts.
2011-2012: New Corporate Partners & Statewide Expansion
In 2011 and 2012, we established new public-private partnerships throughout California to provide basic materials to homeless children and youth. These include several partnerships that continue today, including major gifts from Kaiser Permanente, Target, and Huawei Technologies. We leveraged these private contributions with public social welfare contracts wherever possible throughout the state, serving thousands of kids from San Diego and Los Angeles to Sacramento.
During this time, we also worked to establish partnerships with additional school districts throughout the state, enabling us to reach more children and families in need.
2013-2015: A New Safety Net for Basic Material Needs
From 2013 to 2015, our organization's focus was to ensure that California's nearly 300,000 homeless children receive the basic materials they need to thrive, because (1) the homeless are the most underserved and critically at-risk population, and (2) the existing framework of school district homeless liaisons required by the federal McKinney-Vento Homeless Assistance Act provides an efficient and effective way to reach those in need.
Our most significant accomplishment to this end was our successful sponsorship of Senate Bill 761, which established the School Supplies for Homeless Children Fund as a Voluntary Contribution Fund on Californians' personal income tax returns. This Fund has provided essential materials to more than 110,000 homeless children and youth over the past few years.
2016-2017: Transition to SupplyBank.Org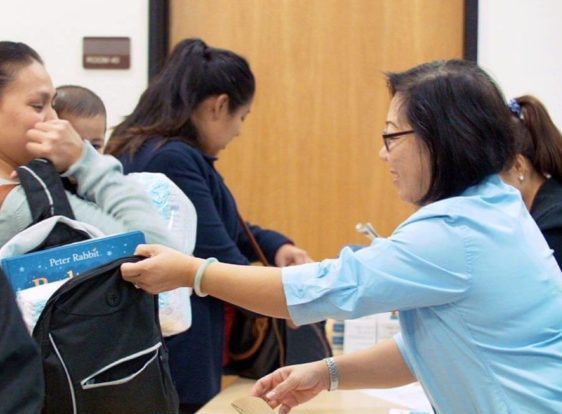 In April of 2016 K to College staff began to formally work with an external leadership team to build an implementation plan for the nation's first brick and mortar supply banking system (like a food bank, but for supplies), called SupplyBank.Org. Our goal is to create a model for addressing unmet material needs that can be replicated anywhere it is needed, just as the food bank concept grew to serve people across the nation – and world.